PE Pipe Making Machine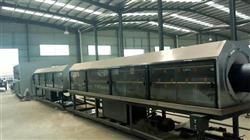 Model: SJGF600
Brand Name: ZEQI
Function: For Extruding PE Pipe
Materials: PE
Type: Single Screw Extruder
Payment Terms : T/T
Product Details

PE Pipe Making Machine
1. Material: For PE
2. Diameter range: 16mm to 800mm
3. For Gas pipes, water pipes
PE pipe Making Machine is mainly used in the production of large diameter polyethylene (PE), high density polyethylene (HDPE) pipe, mainly used in water pipes, gas pipes, PE pipes and thus the device is also commonly known as HDPE gas pipe, water pipe production line.
The PE / HDPE plastic pipe production line use our dedicated and efficient HDPE pipe extrusion machine, proprietary technology designed sizing and cooling system that uses water lubrication and cooling water type, to accommodate the size of HDPE (PP, ABS) pipe stability and ring degrees. Extruder, traction machine adopts imported brands governor and control, good stability, high precision and high reliability.
The entire production line and run time by the PLC program control, setting a good man-machine interface, all process parameters can be set via touch screen and reality. Tag line can be equipped with special extruder production line with national standards Dai color line pipe.

Related Products